A room with a view (of a football stadium!) | Removals in East London
Running a removals service has got to be one of the most rewarding jobs in the world. Every day, on every job across London, there's something to enjoy.
I enjoy being a part of new beginnings. Helping people to move home, I see how happy they are to be making a fresh start, and I feel proud to know that I was able to play some part in that happiness.
I enjoy receiving feedback from our satisfied customers and hearing what a difference our services have made to them.
I also enjoy getting to see London's many magnificent -yet very secret- views. It's always a thrill, when people invite us into their properties, to take a look through their windows and see London the way they see it.
Since I first started Happy2move, I've looked out on beautiful, immaculately-kept gardens, breathtaking, aerial views of the city and stunning scenes of parks and greenery.
Yet none of that could have prepared me for the view I recently enjoyed when helping somebody move out of McFadden Court on Buckingham Road in East London.
It started out like any other day; another routine trip for our man and van crew and another satisfied customer in the making.
There I was, about to pick up another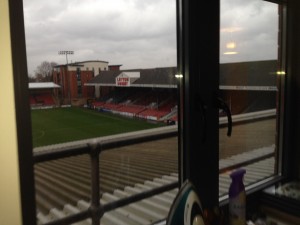 box and take it down to our van, when my colleague gave me a nudge and told me to look out of the window.
Suitably intrigued, I stopped what I was doing and made for the window, expecting perhaps see a great view of the area or a particular landmark off in the distance.  So imagine my surprise when I drew back the curtains and found myself looking out on to a football pitch.
It turned out that this wasn't just any old football pitch either, it was the pitch which stands, centre stage, at Matchroom Stadium, the home of League One side, Leyton Orient F.C.
Apparently, these flats had been built right on top of the ground best known to fans as Brisbane Road, offering those who lived there a front row seat to all the action.
As I looked out on to the stadium, I started to think about all the famous faces who had graced that pitch and all the memorable moments that had taken place there.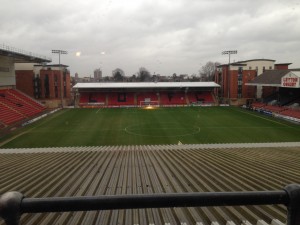 I thought about Joe Mayo racing down the pitch to help Orient earn a spot in the 1978 F.A Cup semi-final.
I thought about legendary goalkeeper Peter Shilton playing his 1,000th professional game whilst seeing out his days at the club, and the fond memories I have of watching the post-game ceremony where Shilton was inducted into the Guinness Book of Records for his achievement.
I remembered that day, only five years ago, when they smashed Premier League runners-up Newcastle United in a 6-1 victory, and I remembered all the valiant battles the club had fought on that pitch.
Just thinking about all those things was impressive enough, but to imagine a football fan, sitting here in here in their home, enjoying all that action up close and personal, that was something else.
Sure, it was more than I could have ever imagined when I first booked that job on Buckingham Road, but it was just another example of why I love helping people to move with Happy2move.
Author:
Happy2Move
Happy2Move is a man with a van team with a wealth of experience in domestic and commercial moves.