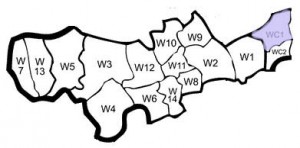 Looking for professional office movers in Bloomsbury? Then you have come to the right place. Our office removals team in WC1 has a vast experience in the office removals industry and they know how to get the job done without the added stress!
Bordering on the North of London, Bloomsbury falls within the London Borough of Camden and is located nearby to Euston Road and Holborn. Properties are respected and revered in this popular area, and with some prime central locations nearby there is no shortage of traffic or one-way streets. Needless to say, our man and a van in Bloomsbury team will be more than happy to assist in guiding you around this tricky area.
Bloomsbury is a centre of knowledge, home to The British Museum as well as a number of hospitals and places of higher learning. This means that there is a lot of traffic moving in and out of Bloomsbury on a daily basis and the area can on occasion become quite congested. Luckily, our man and a van in Bloomsbury team hold plenty of local knowledge and will easily be able to help you work out the correct route from your previous destination to your new one without the added stress and aggravation that comes with getting lost or stuck in traffic.
We specialise in office removals in the area and have moved many businesses into Bloomsbury. We understand that moving can be a stressful time, whether you are moving home or office, you need a team of movers that have the experience and the know-how to  get the job done in good time and with out any added stress. With many years of experience, our removal teams have the can-do attitude and the knowledge to get the job done efficiently.
For a smooth transition from old to new, look no further than our man and a van in Bloomsbury  team.