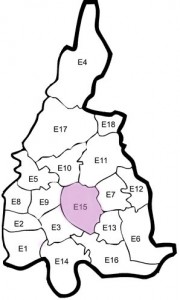 Stratford is one of, if not the best known place in all of East London, largely due to the multiple, huge investments that have recently been injected into the region. Stratford played a huge role in the 2012 London Olympics and has been left with rejuvenated and in some cases completely new structures as a result. Moreover, Stratford is home to Westfield Stratford City, a multi-billion pound investment that sees Stratford offering top end designers, restaurants, cinemas and even a casino in an iconic property.
Stratford is certainly on the up. Amidst its rich historic background the city is now THE place to be seen, not just in East London but the capital as a whole. The already successful public transport has been improved and refreshed giving Stratford that brand new, out-of-the-box feel. Property prices are rising and our man and a van in Stratford team has had many requests in the area from buyers eager to get in while the going's good.
Luckily, our man and a van in Stratford team know the Stratford area inside out. When you hire a man and van at Happy 2 Move you can rest assured you will not get stranded, as our knowledgeable drivers know the best ways to navigate around pesky, congested roads. On top of this, loading and unloading are included as standard, which can be particularly helpful in many of the properties in Stratford which are located above ground level.