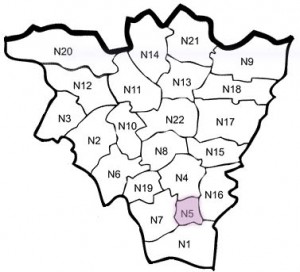 We provide an excellent house removals service in Highbury. We take on jobs from single item delivery to complete house moves, including packing in the N5 area. With a variety of services carried out by our professional, reliable and friendly team, our man and a van in Highbury is the number one choice when moving too or from this area!
Of all the areas in North London, Highbury is right up there as having one of the most interesting and coloured histories of all. Near the Seven Sisters Road, Manor House was first established in 1271 and had passed through much different ownership in its long life including Henry VIII. The Lord Prior Robert Hales took refuge in the nearby Tower of London before being caught and beheaded on Tower Hill. Highbury has been a predominant location in literature from classics by T S Elliot and Jane Austen to the less illustrious Mr Bean and Fever Pitch scripts.
More recently, Highbury was home to Arsenal Football Club, with fans witnessing the club's most successful years at the ground before they moved in 2006. These days, the ex-stadium has been converted into highly sought-after flats that start from around £300,000. The pitch is now a huge garden with a private swimming pool and gym beneath it. Our man and a van in Highbury team have moved many happy customers into these amazing new builds.
With all of this activity Highbury is a very busy and popular area. Some are eager to move to an area on-the-grow whilst others look to downsize elsewhere. Whatever your standing, our man and a van in Highbury team are here to help. We offer excellent value with no hidden extras, and our vans come in a range of sizes. Our driver will also help load and unload the van so there really is no reason not to opt for our man and a van in Highbury duo!