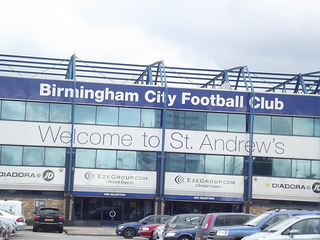 Thinking about moving house? Do you require London to Birmingham removals services? You've come to the right place. We here at Happy2Move are experts on the area, with plenty of satisfied customers that have made the switch from England's capital to Brum, and we'd be happy to add you to that extensive list.
Birmingham is situated north of London in the midlands, and is actually the most highly populated English city outside of London, with well over 1 million residents currently residing there. This probably helps to explain why we have so many man and van requests from customers needing London to Birmingham removals. It is also indicative of what an illustrious city Birmingham is. It is certainly a city on the rise; with the exception of 2009, Birmingham has seen an increase in GVA every year for the last decade, increasing the economic importance of the area and bringing plenty of financial investment to the city.
If you think relocating with the help of our London to Birmingham removals is going to lead to just finance and investment, think again. In addition to a rich cultural background and thriving economy, Birmingham has its fair share of arts and entertainment too. Birmingham is largely seen as the birthplace of heavy metal with Ozzy Osbourne's iconic Black Sabbath originating there. Other noteworthy bands from Brum include Duran Duran, Judas Priest, and the Streets among others. These days, the biggest bands and artists frequent the city to play at the LG Arena which is easily accessible from all parts of the city. If you're a sports fan then moving from London to Birmingham won't deprive you of the beautiful game; Birmingham City FC play fortnightly at St. Andrew's stadium, currently residing in the Championship.
In addition to the many aforementioned attributes, one thing that will definitely stand out following your London to Birmingham removal is the people. Known as 'Brummies', Birmingham's residents have a thick and easily recognisable accent and are known for being friendly and having a good sense of humour, making for a lovely community in a fairly large city.
Birmingham is a gorgeous city with a large population, a diverse and friendly community, and a wealth of opportunity on its doorstep. Judging by our experience of people that have used our London to Birmingham removals services, we can say with some confidence that you will more than likely find yourself right at home.
If you want to take the plunge and hire the best moving company for the job to make the move, get in contact with us at Happy2Move and we'll be more than happy to take you through the removal options we have available.