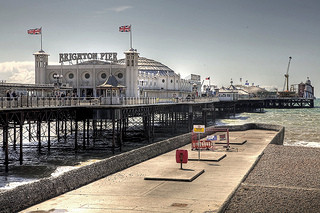 Just south of London, Brighton is one of the UK's hottest tourist attractions and is one of the most popular locations in England for those spontaneous, sunny Bank Holiday weekends. Our London to Brighton removals are actually quicker than going from certain areas in West London to East. This makes Brighton a great choice for people seeking a move outside of the capital who still wish to return to visit friends and family.
The first thing that springs to mind when people think of Brighton is the iconic Brighton Pier. Overlooking the ocean, fairground rides emanating across the entire stretch, and packed out with families, couples and groups of friends, the pier is a true representation of an idyllic Britain. Kids can play in the many arcades, rebellious teens can dive into the more adventurous fair rides, and adults can take in that fresh sea air whilst tucking into the unmatched taste of seaside fish and chips. Upon reflection, it's no surprise we have so many enquirers for our services for London to Brighton removals.
Brighton is known for being extremely anti-discriminative, and people from all walks of life and personal ethos are made to feel right at home in this accommodating city. Combined with the typical seaside qualities of the city, the result is a vibrant and friendly atmosphere consistent throughout the area. Many of our customers that have made the most of our London to Brighton removals services have remarked on the noticeable differences as soon as we arrive in the city.
Brighton has a serious side, too. Both the Labour and Conservative Parties regularly hold conferences here, making use of the remarkable hotels, steeped in classic architecture. It is not unusual to spot a member of parliament taking a stroll along the Brighton coastline, often surrounded by security, adding a sense of prestige to the area. There are also plenty of opportunities for starting a business in Brighton; the guaranteed influx of tourists, both national and international, have proved profitable for many small businesses.
Making use of our London to Brighton removals needn't be a chore. Get in touch with us at Happy2Move and we can give you a competitive quote for your house removal, based on a man and van tailored to your needs. That leaves you to sit back, enjoy the ride and soak up the sun with our efficient London to Brighton removals service.