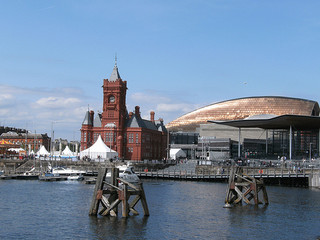 From one capital to another, London to Cardiff removals are a regular on our roster here at Happy2Move. As one of the most prominent cities in Wales, Cardiff has become an increasingly popular destination for movers looking for something different to the hectic London lifestyle and we are the moving company of choice!
One of the most immediate things that strike visitors of Cardiff is the landscape. For people using London to Cardiff removals in particular, it can be a pleasant surprise for one of the country's most relevant cities to also find the space to afford luscious green areas and maintain such gorgeous architecture. Cardiff Castle, Cardiff Bay and Cardiff City Centre may not be the most inventively named collection of sights, but the aesthetics couldn't be more oppositional if they tried. The castle, for instance, heralds from the 11th century and stepping inside is like stepping back in time. Naturally, this array of unique attractions insures a healthy stream of tourists in the city on a consistent basis.
Cardiff is a city that has been on the rise for many decades, epitomised by its declaration as the capital of Wales in 1955. Some people have a false impression of Wales as a somewhat segregated community, but this is very far from the truth. Cardiff is an example of the flourishing Welsh community and from the host of previous customers that have used our London to Cardiff removals we have only heard good things about integration in this beautiful city.
For all you sports-heads out there, Cardiff is a great landing ground. The Welsh national rugby team reside at the Millennium Stadium (which was also briefly home to football's FA Cup final), the SWALEC stadium is home to Glamorgan County Cricket Club, and then there is Cardiff City Stadium where locals can see their beloved Bluebirds in action.
Judging by the previous experiences of moving customers with our London to Cardiff removals, we believe it must be a terrific place to live in. The contrast of the decadent, archaic buildings and greenery with the thriving economy and opportunity makes Cardiff a city that is simultaneously tranquil and vibrant.
If you've decided you want a man and van to help with London to Cardiff removals, don't hesitate to get in touch with Happy2Move; our highly experienced removals men will have you settle in your new home in no time at all.