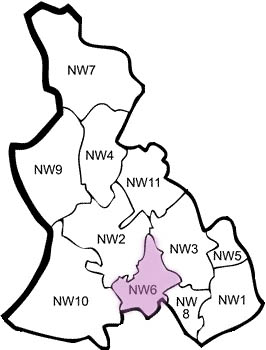 Although the history of Kentish town goes back to the 13th century, the town itself wasn't developed until the beginning of the 19th century and then redeveloped after the Second World War.
It has many leafy tree lined roads and it is a popular place with anyone involved in music, films or art. There are a number of live music venues and modern clubs.
Happy 2 Move's man and a van in Kentish Town works all over; within the whole of London and across the UK, so wherever you are coming from or going to, our man in a van will do his best to accommodate you. We offer a friendly and reliable man with a van and removals service in Kentish Town and surrounding areas.
Our drivers know the place well and pride themselves on being able to avoid the rush hour traffic around Forest Road. They prefer cutting through the side roads to get their clients to their homes in Brookfield Park, or Busby Place.
Kentish Town is on the Northern Line and so it is an ideal place to live if you need to travel into London for work and you want to live in a pleasant area.
Our Man and a van in Kentish Town service is first class in quality of service and price; for 1 man with a van, providing that you can provide help with the loading and unloading of the van we quote by the job, not by the hour and this means if our driver does somehow get stuck in traffic, you won't see your invoice rising by the minute!
Our movers are also fantastic at putting up flat-pack furniture, so if you want your house, flat or new room to look like a home quickly, ask us to quote you for this service.
Our man and a van in Kentish Town can help you:
Move into or out of a house or flat
Move into student accommodation
Move private possessions into storage
Move office paperwork into storage
Deliver goods from one shop to another
Put up flat-pack furniture
If you have sold your property and haven't found a new one yet, or, you are in need of more space in your home, but you can't afford to move; consider Secure Self Storage. It is an affordable way to keep your possessions safe while you search for that new property, or create more living space where you are now.
We will quote you a competitive price for transporting your possessions and if you want the driver to help you load or unload the van, they will do that too, (although there is an extra charge for taking items further than the ground floor).
If you need to travel with our man and a van in Kentish Town, there is enough space for two people in the van, so that will save you some money on transport fares and we won't charge you extra!
Our man and a van in Kentish Town service is professional, friendly and very patient and all our drivers really enjoy they're jobs, so if you need wheels and some man power, give the office a call for a quote, or some advice, and we will do our best to provide you with whatever transport service you require. If you want a transport service that goes that extra mile, contact our man with a van team today.