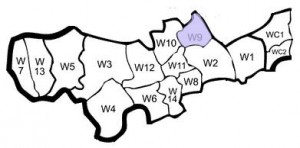 We are a professional and affordable removal company in Maida Vale offering a fixed rate man and van service in W9 from £45 – no hourly charges, to go anywhere within a London postcode. Our prices might be low but our standards are high, we pride ourselves on our reputation, you can check out our testimonies on our home page!
Maida Vale is a district full of beautiful red brick properties which were built in the mid 1800's when construction began in earnest in Maida Vale. It is an affluent area in the borough of Paddington.
Our man and a van in Maida Vale knows the area like the back of his hand and if you need a reliable and professional removal service we can offer you a fixed price quotation starting at £45, with no hidden extras.
Although Maida Vale is close to busier parts of London, it is a fairly quiet area, with lots of tree lined roads and the 27 acre Paddington Recreation Park, as well as plenty of shops, restaurants and pubs.
It is where you'll find the charming area of Little Venice. It is a stretch of water where the Regents Canal and the Grand Union Canal meet.  Our man and a van in Maida Vale team know just how to get to and from Little Venice, so if you've bought or a sold a house boat, we can help you with the move.
Whenever you need transport in Maida Vale, for whatever reason think about using our man and a van service.  Don't get lost in the maze of one way streets looking for an address in a self- drive rented van. Not only will you waste hours of your time, raise your blood pressure and do your back in carrying heavy furniture. You'll also have the expense of the van, extra insurance and petrol or diesel costs. Our man and a van in Maida Vale team are experienced, professional have a wealth of local knowledge and the knack of knowing just where to park.
Our Maida Vale man in a van will help you load and unload, and, for a small extra charge he will even carry stuff up stairs for you. He also has two extra seats in his van so you can travel with him if you don't have your own transport.
If you're using a man and a van because you've just purchased the entire contents of your new house or flat from a famous flat pack establishment, you can get a quote from us so that our man can put up all that lovely flat-pack furniture, without uttering a cross word! Well… not so you'll hear him anyway!
We travel all around the London area and beyond, so if you need something moving out of Maida Vale, don't think you can't ask us, because you can. We'll even try to accommodate at the last minute if you find something has gone wrong with your previous plans and you need a van in a hurry, we'll do our best to help you.
If you're putting goods into storage, we can provide our man and a van in Maida Vale and a recommended secure storage unit too.
Moving your possessions with us means your day will go smoothly; you'll arrive at your destination stress free and in the company of our Mr smiley, our man and a van in Maida Vale!