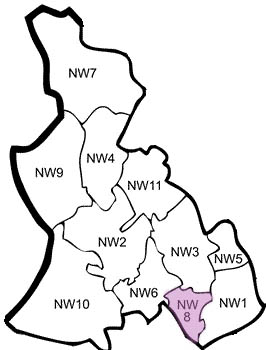 Saint John's Wood is where our man in a van, dreams of owning one of the beautiful mansion houses, set in the leafy tree lined streets of this London area.
It is very near Regents Park and in fact you can just walk through it to reach the centre of London, but despite its proximity to the hustle and bustle of the city, it still retains a village atmosphere and that's one of the reasons that make it so popular.
Saint John's Wood is home to three cricket grounds, Lords, Marylebone and Middlesex County and it is also the location of the Abbey Road zebra crossing, made famous by The Beatles. In fact it's an area our man and a van in Saint Johns Wood, likes to avoid, as fans from all over the world are constantly causing traffic holdups because they stop at the crossing to take photographs.
Saint John's Wood has a lot of wealthy residents from film and television and a good multi-cultural mix of people who attend the private universities in the area.
Happy 2 Move's man and a van in Saint John's Wood can help you with any job that requires transport bigger than a car, but smaller than a lorry.
We can help you move a large item of furniture either in or out of the Saint John's Wood area. We work throughout London and we know the area really well.
If you have someone to help the driver load and unload, we will only charge you per job and in a busy place like London, this could save you a small fortune.
If you don't have anyone to help, we can send you 2 or more movers to help you move, please note this service is charged by the hour, for more information please check out our pricing page.
Our man and a van in Saint John's Wood can also help Courier firms in a jam and commercial companies that need goods delivering from once place to another.
If you are changing office premises and need the furniture and equipment moved, hire our man with a van service and we will make sure we cause as little disruption as possible to your workforce. We can even work weekends, if it suits you better.
Student removals are ideal for the man and a van in Saint John's Wood service, we will take you if you need it, and all your study materials and books, to your new accommodation. If you are going away for the summer you might prefer to leave your stuff in Secure Self Storage. We can advise you about storage facilities too.
Transporting motorbikes and bikes from shops or repair workshops can sometimes be difficult. If you have a bike that needs delivering or collecting, ask us to do it for you.
Another one of our movers and packers skill are expertly assembling and dismantling flat-packed furniture, so if you have bought up a storm in Sweden's favourite shop, give the office a ring and get a quote.
If you are moving in or out of Saint John's Wood and you want to make less stressful, we can also provide you with a full packing service.
Our man and a van in Saint John's Wood service is reliable, friendly and affordable, so if you need any kind of transportation, no matter how big or small the job is give us a ring!