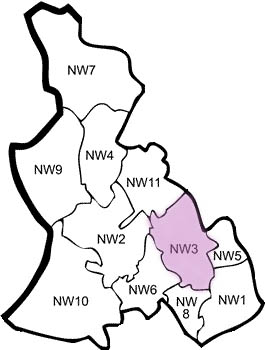 Happy 2 Move's man and a van in Swiss Cottage is a really useful option when you want to move something that's too big to put in the car, or impossible to take on the Tube. We can help you with a number of jobs, big or small. We offer a professional, reliable and friendly man with a van and removals service.
Swiss cottage is on the Jubilee line, close to Camden. You can be in London in minutes, or you can enjoy the facilities available in Swiss Cottage itself; it's got two swimming pools, a nice library, (where our drivers borrow their Top Gear books!) and it is also home to the Hampstead Theatre.
It is an affluent area which boasts large Victorian Houses and Mansions which have been converted into flats. It is a popular place with anyone who has money to spend and wants to live close to London.
Our drivers make sure they avoid Belsize Road in the rush hour. We do our best to get the work done quickly, although if you've booked us for a job you'll know that for our 1 man and a van service, we don't charge by the hour, only per job. That means if we are delayed in traffic or you get the sofa stuck on the stairs, you don't have to worry about paying us any more money.
Some services are subject to extra charges and these are:
Moving items in a lift or upstairs
Picking up or dropping off from more than one stop
Working before 9am or after 5pm
If there isn't anybody to help our man and a van in Swiss Cottage, load and unload we can provide a 2 or 3 man service, which is charged by the hour.
Our man and a van in Swiss Cottage service also works throughout London and we will do:
Residential Moves
If you are moving house or, you need your possessions putting into Self Storage
Business Moves
If you are changing offices we will carry out the job with as little disruption to your business as possible.  We can also move documents or files that are taking up too much space into a Self- Storage Unit.
Student accommodation changes
If you are changing student digs or you want to store your work somewhere for the summer, our man and a van in Swiss Cottage can help.
Local Commercial Deliveries
If you own more than one shop and need stock moving from one place to another, just ask us!
Courier Service
We provide a comprehensive courier service within the London area, just ask for a quote.
Motorbike and Pedal Bike collections and drop-offs
If you need to get your motorbike or pedal bike to another address, or for a repair, we can deliver it and in the case of repairs, bring it back again.
Assembling and dismantling Flat-Packed Furniture
There's nothing our man with a van likes better than putting up flat-packed furniture, all our movers are fast and efficient. If you need furniture dismantling for a move, we can do that too.
Packing for removals
Our man and a van in Swiss Cottage can take the stress out of your removal by packing up your possessions for you. All our movers and packers are fully trained to handle and pack delicate items and they have many years of experience in the industry; we pack everything with great care. (Please note the packing service is an optional extra and is charged on an hourly basis, please check our pricing page for more information).
Our man and a van in Swiss Cottage is efficient, reliable and affordable, so contact the office and we will be happy 2 give you a quote!