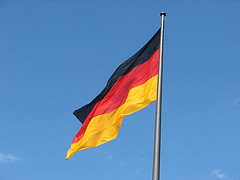 Happy2Move – A moving company with a difference; professional, reliable and affordable removals from the UK to Germany
Relocate Your Business and Take Part in Oktoberfest! 
It is no surprise that Germany has a reputation for being an efficient, forward-thinking country. Germany's economy is founded in an ethos of hard work making it a highly viable option for those looking to establish a business within Western Europe, which helps explain why so many of our customers are asking for our professional removals from the UK to Germany services. The country is steeped in a rich history with a multitude of must-see tourist attractions dating back to the times when the land was divided into East and West Germany. Nowadays, Germany is a country united and we've found that helping customers with their removals from the UK to Germany is becoming an increasingly popular trend. Berlin, being both the capital and most populous city in the country, seems to be a prime location for those switching from London to Germany. You'll certainly be in good company; Germany has produced some of the greatest minds the world has known, from Albert Einstein to Ludwig van Beethoven!
Should you decide to move from London to Berlin, or indeed anywhere in Germany, Happy 2 Move can provide you with an excellent range of options. As one of London's leading van removals companies, we have a wealth of experience in moving our customers into new homes, and with our years of experience and careful professionalism, we have no doubt we'll impress with our expertise in furniture removals. As a customer-oriented removals service, our goal is to help you make the switch to your future home as easily as possible, and this includes making sure you get the best price on that important house removals from the UK to Germany. Contact us now and you'll be able to see for yourself that going with Happy 2 Move will help keep your removals costs as low as possible. That leaves you with a pocket full of cash to make sure you truly make the most of your time in Germany; plenty of money to check out the Boulevard of Stars or get involved at the famous Oktoberfest.
Once you've made your mind up and decided that moving from the UK to Germany is the right choice for you, simply check out our informative guide to choosing the right sized van and leave the rest to us. With years of experience moving satisfied customers from the English capital to Berlin and elsewhere, we can assure you that our highly professional service will live up to your expectations.