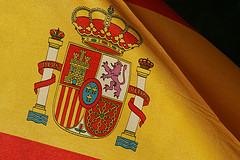 A moving company that offers a huge service at a small price; professional, reliable and affordable removals from the UK to Spain
Move Away From the Stress and Experience Bull Runs and Seaside Sangrias
Sand, sea and sun are the alliterated words often associated with Spain, but there is much more to this fascinating country than the climate. Along with Australia, Spain is the most popular county for British citizens looking to relocate for a change in lifestyle, and so it is no surprise that we receive so many requests from customers for removals from the UK to Spain. As mentioned, the warm weather and gorgeous beaches hold huge appeal for those seeking a paradisiacal change of scenery. Sipping sangria on the seafront sounds a lot more appealing than trudging through the rat race in Central London! The lifestyle itself is also a huge appeal, with the Spanish taking a much more laid back approach to the working day than their British counterparts. Don't worry, though, we're very professional about house relocations and removals from the UK to Spain, so there's no chance of our staff taking a classic Spanish siesta!
One common misconception among our customers is that relocating abroad will cost a fortune. On the contrary, we make it our aim at Happy 2 Move to make the cost of your removals from the UK to Spain as affordable as possible. Whether you're moving from London to Madrid or to a more remote area of Spain, we consistently create some of the most competitive prices on the market, leading to use becoming one of London's leading moving companies. Indeed, we have plenty of experience moving customers from the England to Spain. Madrid is massively appealing, revered as a fashion capital and home to the Galácticos Real Madrid, whilst further out of the capital Spain has some beautiful mountains and rivers for those seeking more rural escapes. It is no surprise that such a huge amount of Brits choose to retire in Spain or that younger families looking for a change decide to set up camp here, taking advantage of the excellent educational facilities and enjoying a few rays at the same time.
Once you've decided that a UK to Spain switch is the move for you, all you need to do is decide on the correct van using our helpful guide. Enter your information and we'll get back to you with a competitive quote, leaving you to put your feet up whilst we at Happy 2 Move take care of the house removal for you. If we can be of any further assistance, please don't hesitate to get in touch with a member of our team and we'll be happy to help.