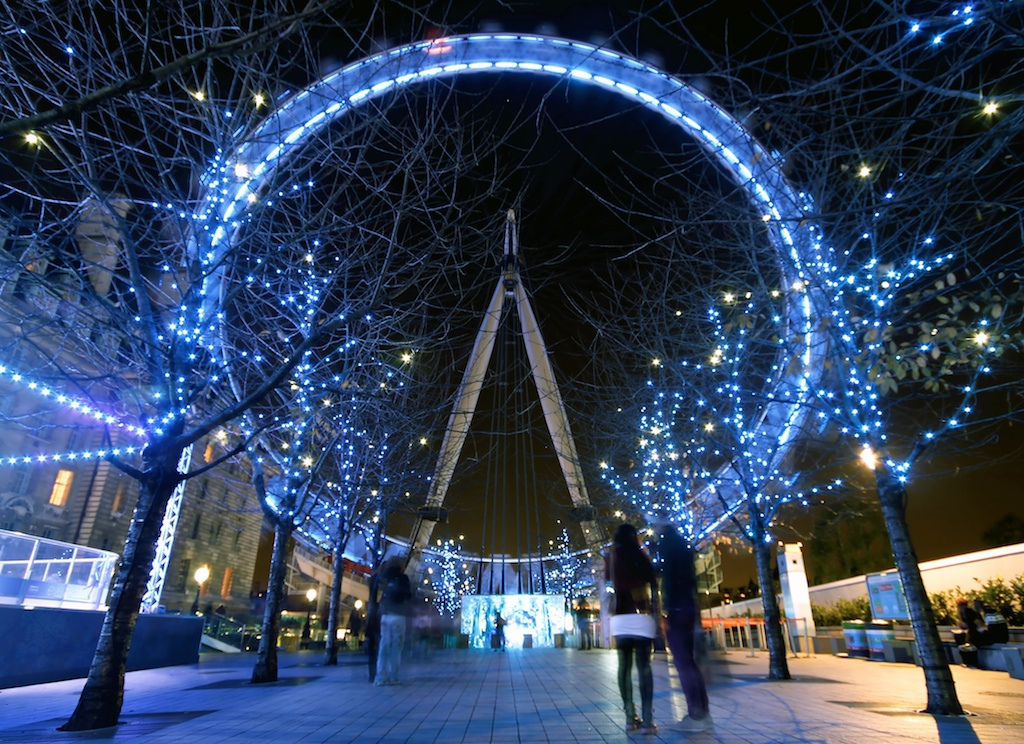 London has long been known as the place to be if you crave all that's cosmopolitan, but there's just so much on offer in Ol' Smokey it can sometimes seem a bit overwhelming. We've decided to do the hard work for you and summed up our top reasons to love London, so you can just get on with enjoying the big city…
Shop 'til you drop
We all know that the country's capital is a consumer paradise, but it's not just the stuff for sale that makes London shopping unique – it's the shopping experience itself. Whether it's a potter around Notting Hill's vintage-style boutiques, a rummage for treasures at Spitalfields Market or a full-on frenzied spend-fest on Oxford Street that you're after (world's biggest Topshop, anyone?!), you can do it in London. Must-do shopping experiences include a trip to Liberty in the West End with its mock-Tudor frontage and wooden spiral staircases; window-shopping beneath the twinkling (ok, dazzling) Christmas lights of Oxford Street, Regent Street and Carnaby Street, and a sample of the scrumptious street food on offer at Borough Market.
You want it; they've got it
Whatever your whim for doing, buying, wearing, listening to or eating something, it can – and does – happen in London. Currently unable to get sushi and freshly squeezed pomegranate juice at 3 am in your paltry, non-London neighbourhood? Need to find a lama fancy dress costume by sundown? Fancying a sober rave in your lunch hour, or a midnight group bike ride? Need to learn the trapeze for your next party trick? Craving a box of 12 Krispy Kreme doughnuts but living somewhere, god forbid, up north where they haven't been invented yet?!* If only you were in London. Enough said.
*This isn't entirely accurate as Krispy Kreme are now available at a number of stores across the UK, I was merely making a point using a branded doughnut as a metaphor.
Knowledge is power
London has the biggest and most broad-ranging selection of museums, galleries and libraries for the more studious among us. They're mostly they're free to visit too, so if money's feeling a little tight get yourself to one of the many cultural experiences London has to offer, and fill your time for free. Why not spend the afternoon contemplating conceptual art at Tate Modern, shaking hands with a Diplodocus skeleton at the Natural History Museum (on second thoughts, probably best not to touch it) or rubbing shoulders with George Clooney (well, his wax doppelganger at least) at Madame Tussauds?
The outdoor type
Think life in the Big Smoke is all high-rises and smog, glitterati and gimmicks? Think you'd miss the wonders of nature living in the capital? Then think again! These days London is home to some of the best outdoor experiences around, and far from bereft of its share of wildlife, flora and fauna. Take a trip round London Zoo to see a Galapagos tortoise right there in the middle of the city, or picnic in one of the many stunning parks for your fill of green, open spaces. Feeling brave? Go outdoor swimming and take a dip in a chlorine free – if a little chilly – pond on Hampstead Heath. Or if you can't quite face that, just get yourself to a London beer garden for the ultimate lazy but obligatory summer-in-the-city experience.