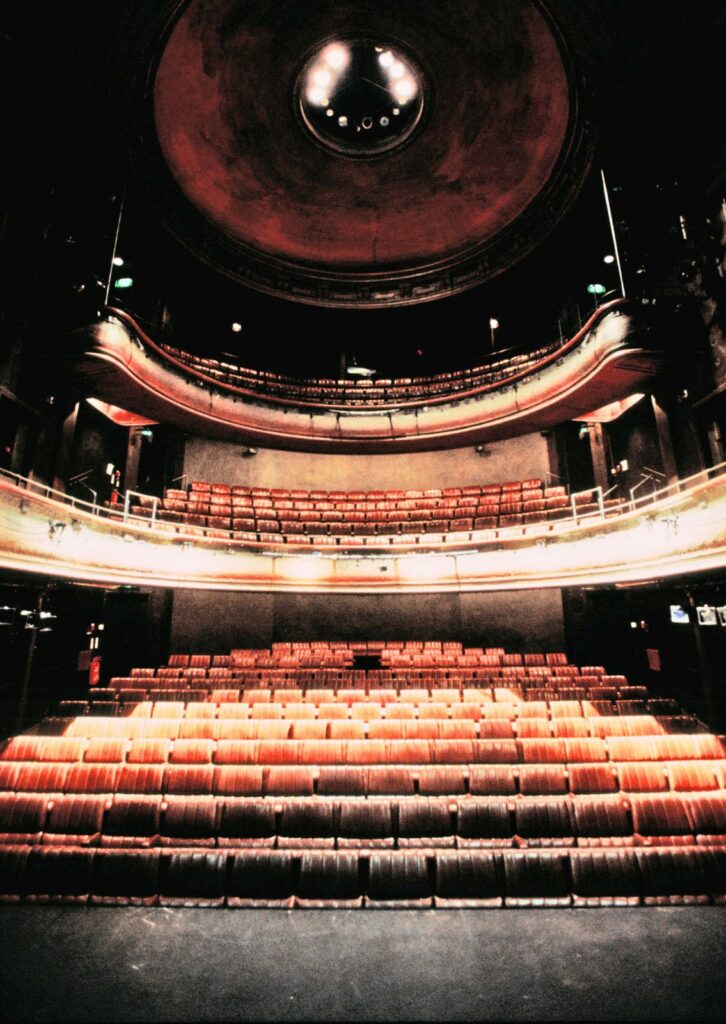 The Royal Court Theatre is dedicated to giving the best writers a platform for new and inspiring work. Over 120,000 people visit the theatre each year. Theatre-goers are able to debate and engage with writers, bringing a challenging but fulfilling experience.
We spoke to Roy Alexander Weise, a trainee director, about his time working at the theatre and how it has shaped his view of the industry – and his plans to be the first black director of a Bond movie!
How did you get started in theatre and directing? What's your background?
I started out as a singer and musician. I love music, especially music with stories. I loved how evocative a songwriter could be with words and the music of the words. Then at the age of about 13 I was leaving school to head home and needed to use the bathroom but couldn't be bothered to walk back into the school so I walked into this random building in Oval. Turned out it was a theatre and a lady shoved some flyers into my face and that was the start of my introduction into theatre.
I became part of several youth theatre shows and had my heart set on becoming an actor and then I was given a golden opportunity to lead creatively on my own project. At that point I realised the range of vocations that were available through theatre and the variety of skills on offer to be learnt and to be exercised.
My family NEVER EVER went to the theatre. I hadn't ever seen a play before I went to Ovalhouse but I knew that I had a special relationship with words and story and emotion and people and discovered that in theatre there was an immediacy. It was a place that I could be astute and try to use stories and bodies to communicate the voices of people like mine to the rest of the world and vice-versa.
I then went to Rose Bruford for 3 years and did an amazing 3 year Directing degree. Following my degree did various jobs at London theatres and landed finally at one of the best in the world. The Royal Court.
What does the Royal Court Theatre offer you as a director?
A chance to interrogate my understanding of what plays should and can be. A chance to work with the most highly recognised playwrights, directors, actors, designers, stage managers and borrow and steal what works for me. It offers me a home for a year (which is incredibly valuable as directing can feel quite lonely).
It gives me the courage to be innovative and discover new ways to communicate with audiences. It gives me hope as a young black individual who otherwise might struggle in the vast sea of incredible artists that our country hosts (especially considering how difficult it can be to make headway as a young artist).
How has the theatre's traineeship helped you develop?
I developed a real eye for detail in terms of story and production. I've sat in such a variety of rehearsals rooms and have seen the process of page to stage happen several times over the course of my training. Being in this incredible position has given me tools and experience to draw from whenever I need.
It's also a position that requires you to be more than just an assistant director. You've got to be able to run the ship if necessary and respond accordingly to the needs of the theatre. I have had the opportunity to lead creatively on my own projects and have input into the future projects at the Royal Court. I've also learnt to look at the theatre landscape and think about how I could do things differently.
Can you tell us a little about the history of the theatre? What notable names have appeared or been involved in production at the Royal Court Theatre?
The Royal Court Theatre is the writers' theatre. It is a leading force in world theatre, finding writers and producing new plays that are original and contemporary. The Royal Court strives to be at the centre of civic, political, domestic and international life, giving writers a home to tackle big ideas and world events and tell great stories.
The Royal Court commissions and develops an extraordinary quantity of new work reading over 3000 scripts a year and annually producing around 14 world or UK premieres in its two auditoria at Sloane Square in London. Over 200,000 people visit the Royal Court each year and many thousands more see our work elsewhere through transfers to the West End and New York, national and international tours, residencies across London and site-specific  work, including recent projects in Peckham, Pimlico and Tottenham.
The Royal Court's extensive development activity encompasses a diverse range of writers and artists and includes an ongoing programme of writers' attachments, readings, workshops, and playwriting groups. Twenty years of pioneering work around the world means the Royal Court has relationships with writers on every continent.
The Royal Court opens its doors to radical thinking and provocative discussion, and to the unheard voices and free thinkers that, through their writing, change our way of seeing.
Within the past sixty years, John Osborne, Arnold Wesker and Howard Brenton have all started their careers at the Court. Many others, including Caryl Churchill, Mark Ravenhill and Sarah Kane have followed.
More recently, the theatre has found and fostered new writers such as Polly Stenham, Mike Bartlett, Bola Agbaje, Nick Payne and Rachel De-lahay and produced many iconic plays from Laura Wade's Posh to Bruce Norris' Clybourne Park and Jez Butterworth's Jerusalem. Royal Court plays from every decade are now performed on stage and taught in classrooms across the globe.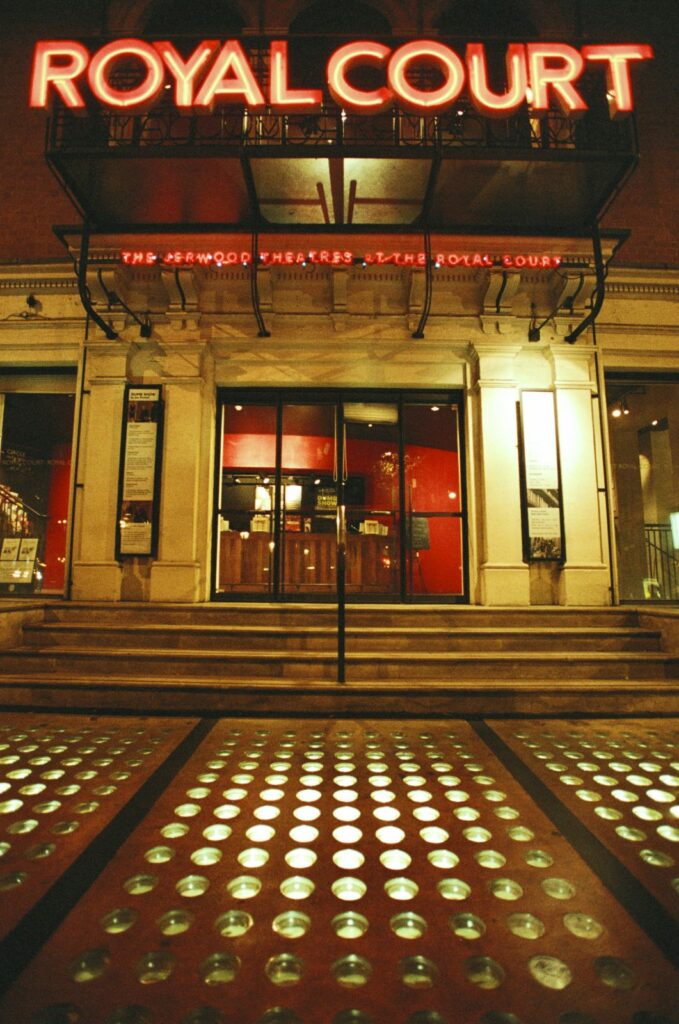 Why is the Royal Court Theatre so important today?
It is one of a few theatres that are really conscious about its social and political relevance as an arts and entertainment venue. It knows the power that it can have.
Many theatres are happy to just stay in operation, with bums on seats and 5* reviews being the main objectives. Of course these are part of the Royal Court's objectives too but with an added hunger to really interact with the politics of the world.
It continues to offer unique opportunities for playwrights and other theatre artists to really graft and hone their skills and talent. The rigour in this building is like I've never seen before and the tenacity is second to none.
What draws great writers to the theatre?
Because it is known as the home of new writing and with that the playwright really does come first.
Why do you think audiences like coming to see new writing?
I think audiences like coming to see new writing because we continue to have a thirst for new narratives. These are the plays that will hopefully go on to join the cannon of plays in our great history of literature and theatre. Many of the plays revived in other theatres around the world have originated from the Royal Court, some developed here closely with us and others through relationships that the playwrights have with the theatre or the audiences.
The Royal Court audiences like to be challenged. They know it's not confetti and pyrotechnics when they come here (well only with a good dose of provocative story). People want to know what life is beyond their experience and surely it's not all Hamlet and Chekov.
What can this theatre offer audiences that others don't?
Other than the amazing plays there are also other ways that audience can be engaged. The Big Idea is a strand of work that continues to ask audiences to discuss and discover the worlds that the plays come from. This can range from talks with specialists to happenings around the building or in the bar; which has an amazing menu and a pretty cool vibe.
What upcoming events can visitors look forward to?
X by Alistair McDowall, directed by Vicky Featherstone. JTD running until 7 May. Cast- Rudi Dharmalingam, Darrell D'Silva, James Harkness, Jessica Raine and Ria Zmitrowicz.
Cyprus Avenue by David Ireland, directed by Vicky Featherstone. JTU 5 Apr – 7 May. Cast- Chris Corrigan, Julia Dearden, Amy Molloy, Wunmi Mosaku and Stephen Rea. Press night 7 Apr
Royal Court on Screen: we're partnering with Picturehouse Cinemas for a season of gala screenings to celebrate how the Royal Court Theatre, the home of new writing, has influenced British cinema throughout the decades. The films include Look Back in Anger by John Osborne (1959), The Rocky Horror Picture Show by Richard O'Brien (1974), Rita, Sue and Bob Too by Andrea Dunbar (1987), The Libertine by Stephen Jeffreys (2004) and Gone Too Far! by Bola Agbaje (2013) 11 Apr 13 Oct.
What are your ambitions as a director?
I want to go freelance for a bit and get a real taste of working in other theatres. The first stop is The Finborough where I'll direct a play called Stone Face by Eve Leigh to open their Summer Season in May. It's a play that examines Britain's attitudes and provisions for our most vulnerable people.
I want to start an initiative to change the culture of theatre-going. Alice Walker, author of The Color Purple said "If art doesn't make us better; then what on earth is it for?" I believe this is why theatre is so important but I'm very lucky to have stumbled in the back door.
I think we still see theatre as something that the middle and upper class do. But it's not. And there are a hell of a lot of people out there that don't know this yet. It shouldn't be a privilege to have access to stories that teach us to be better. Telling stories is probably our oldest pastime as human beings and everybody should have access to culture.
Ultimate aims later in life are to be an Artistic Director of a ground-breaking theatre (like The Royal Court). And then maybe direct some film and television projects. And then after being the first black guy to direct a Bond movie I'll make a massive theatre comeback with a production which will have a West End transfer, a Broadway transfer, and world tour (which will have been modified to be performed in unconventional spaces).
Roy is about to finish his year's placement as trainee director at the Royal Court Theatre.
Roy will be directing Stone Face at the Finborough Theatre from 17 May – 11 June //www.finboroughtheatre.co.uk/productions/2016/stone-face.php
To find out more about the Royal Court news and the trainee scheme see https://secure.royalcourttheatre.com/booking/account
The Royal Court Theatre is a chosen attraction in our guide of Things you have to do in West London.