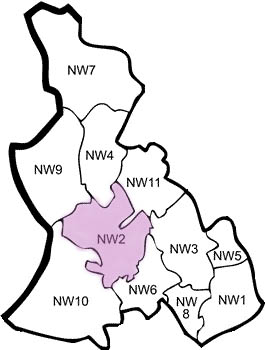 Happy 2 Move's man and a van in Cricklewood know their way around the area and make sure that when they are working, they avoid the rush hour traffic and the road works that delay so many drivers. Cricklewood is well served by public transport; it's on the Jubilee Line and it also has a railway station, which means that travelling in to London isn't a problem. If you are looking for a professional man with a van and removals service, then you have come to the right place!
Cricklewood spans the boroughs of Barnet, Camden and Brent. It has always been a popular area to film television programmes and our man and a van in Cricklewood likes to pretend he's Terry from 'Minder' as he expertly steers his van through the High Street, towards Hampstead Heath.
Gladstone Park isn't too far away if you want to blow away the cobwebs of a stressful week at work. Cricklewood also has the award winning Maplesbury Dell.
Housing is Cricklewood is mainly Victorian and Edwardian and many of the terraced houses built at this time housed the people who came to work in the area, which used to have many important industries such as Smith Industries and the Smith's Crisps factory. It was also home to the Cricklewood Film Studios, which produced many silent Black and White films during the 1920's.  Many workers came from Ireland and Cricklewood still has a large Irish community.
If you are moving in or out of Cricklewood and you need a hand, our man with a van in Cricklewood, can get you through the traffic and installed in your new residence fast.
Happy 2 Move's man and a van service will also help you to put up any flat pack furniture you've bought for your new home; it will cost a bit extra, but we are so good at it and it will save you a lot of stress!
If your home is looking a bit crowded and you can't afford to move, our man and a van in Cricklewood can help you by moving some of the furniture or possessions that you don't use often, into secure storage. It's a great way to free up space at home, without having to get rid of the things you love.
So don't forget that our man with a van can help with:
Office moves
student moves
moving commercial goods
House moves
Moving goods into storage
Putting up flat pack furniture
For the 1 man and a van service, providing that you have help at both pick up and destination, our man and a van in Cricklewood doesn't charge by the hour, so you won't have a heart attack if he does happen to get stuck on Cricklewood Broadway. All quotes are per job and he makes sure that any extra charges, such as moving your possessions up flights of stairs, or putting up your flat pack furniture are set out clearly in your quote.
Happy 2 Move's man with a van service can also help you with moves anywhere around the London postcode area and across the UK, just get in touch and we will happily accommodate to your needs.
If you need advice about Secure Self Storage facilities in London, we can advise you about that too and help you get your belongings to the storage unit.
You'll find our service, friendly, helpful, reliable and always smiling! So if you need wheels and a strong pair of arms, contact the office for a quote.