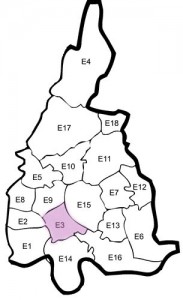 Originally named after the bridge built back in the twelfth century, Bow is a fashionable area of East London which has strong musical ties and is becoming ever popular, especially since the inception of the 2012 Olympic Games. The London 2012 Olympic Park is less than a mile from Bow and with millions of spectators from around the world watching the globe's top athletes compete there; an element of prestige has become integrated with the E3 post code.
In close proximity to Stratford, Mile End and Layton, Bow is a central hub for East London activity and transportation. Part of the London Borough of Tower Hamlets, Bow is, according to some, the true home of London cockneys; it is said that to be a true cockney you must be born within earshot of the Bow Bells. With Happy 2 Move you'll be up the apple and pears in no time me old china – our man and a van in Bow is here to help!
Not only does our man and a van in Bow team have an excellent working knowledge of this busy East London area but we will also provide a range of additional services free of charge. When hiring a man and a van in Bow with Happy 2 Move you will enjoy complimentary loading and unloading of the van. You will also be able to use our modern equipment to safeguard your belongings free of charge.