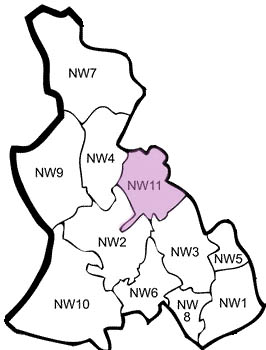 Golders Green has a large Jewish community, but it is a multi-cultural area, with restaurants serving food from all over the world. Our man and a van in Golders Green likes it because there are plenty of coffee shops and we love a nice, strong coffee when we need to recharge our batteries.
Golders Green is in the Borough of Barnet.  It is very well served by public transport and is on the Northern Tube Line.
Strange as this may seem, another well -known spot in Golders Green is the Crematorium.  This is because it is the final resting place of a host of famous people.
Happy 2 Move's man and a van in Golders Green knows the area very well and we make sure we can avoid all the traffic holdups. Golders Green High Street is usually buzzing with people and traffic during the week, but unlike most places, it is very quiet on a Saturday and that's because it's a Jewish day of rest.
At Happy 2 Move we can provide a fixed rate service that is priced per job. So for 1 man and a van in Golders Green, as long as you have got someone who can help the driver load and unload the van and you are moving to or from Golders Green, or within the London Postcode area, we will only charge you depending on how much you fill up the van and not on and hourly charge.
Our man with a van service can help you:
Transport goods and stock from one shop or warehouse to another.
Transport office furniture, equipment and files from one office to another and if you are looking for storage space, we can advise you about secure self-storage and deliver the items to the storage unit.
Taking a motorbike or a pedal bike to be repaired can be difficult, but man in van can do it with ease.  And, if you don't want to ride back home once it's repaired, we will collect it again and deliver it to your door.
If you are a student and you need to move out of your student accommodation and into somewhere new, our service is the ideal option. We can even advise you about storing your papers and books in self storage for the holidays.
Move smaller items of furniture and boxes from your Golders Green property to another property, within London or the UK.
Collect and deliver items purchased or acquired over the internet, or through the local newspaper.
Courier items throughout London or within Golders Green.
Our man and a van in Golders Green also has other talents that can be put to good use, but we do charge extra for this and these are:
Assembling and dismantling flat-packed furniture
Packing up your possessions
Carrying items up a flight of stairs or in a lift
If you have larger pieces that need moving and you want us to do the job without your help, you can choose our 2 or 3 men service.
Our man and a van in Golders Green provides a first class service. We are reliable, friendly and efficient and most importantly, we will get the job done!