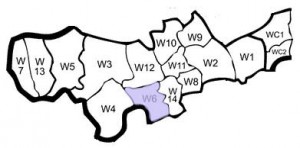 Looking to hire a man and a van in W6? Left it to the last minute, not to worry, we can accommodate you. With multiple vans on the road daily, we have the capability to take on jobs at short notice!
If you need things moving around the Hammersmith area, save yourself a lot of stress and hire our man and a van in Hammersmith. We have a number of vans on the road daily and we know the W6 area inside out.
Attempting the Hammersmith flyover or negotiating the traffic in King's street is enough to give you an anxiety attack! But, our team of experienced drivers know how to get any vehicle around the Apollo and behind the Lyric Theatre in a jiffy, even without speeding!
Public transport is fine, if all you have got to worry about is a rolled up newspaper and a mobile phone; but try shifting boxes about and you'll end up a sweaty horrible mess, really!
Our man and a van in Hammersmith will make sure your possessions get to where you want them to be safely and in one piece, even if it means if missing his lunch and not getting home on time.
We help anybody and everybody. If you're moving from one office to another, then call us to help you move quickly, so that your business does not suffer from too much interruption. Giving away a large piece of furniture to a relative, well we also help individual householders too, so you don't have to worry, call our man and a van in Hammersmith today for a free instant quote!
We can also help you if you're moving out of the Hammersmith area. We cover Shepherd's Bush, Kingston, Acton, Central London and beyond. Just tell us what you need moving and where you're moving to, it's that simple.
Our excellent service also means that our driver will help you load and unload the van, we only charge extra if you want us to help you move stuff up and down stairs.
Need a lift? No need to call a taxi. Our man and a van in Hammersmith hero can accommodate you and another person in the van.
Once you reach your destination, if you need help assembling flat pack furniture, just let us know beforehand and we will work out the charge. Once it's been agreed, we will fix up your flat pack with a smile, imagine that!
If you're moving into Hammersmith, welcome to West London!  Some of the most important multinational companies have offices here and we have two great hospitals. King's Street is brilliant for shopping. The river's nice for a walk and bite to eat and the kids will love Ravenscourt Park.
If you love theatre and music, then you're in for a treat. Hammersmith is home to the Lyric Theatre and the Apollo. You can see your favourite actors, singers and comedians on your doorstep.
Don't forget using our man and a van in Hammersmith will completely take the stress out your house move or office change. Our rates are affordable and competitive and don't forget, if you hire a self-drive van, you've got the van hire, petrol and a lot of hassle. Let Hammersmith's man in a van shoulder the stress for you.
Hammersmith is a lively, busy buzzing part of London and our man in a van loves it.